In looking carefully at a map of Alaska, one first notices the size of the state and its coastline and how much vast space with no roads. In the interior, the distances are covered by bush and float planes like we saw in Anchorage. This works on the rugged coast between the islands but is remarkably inefficient in moving freight or if you want to use a vehicle to proceed beyond the landing spot.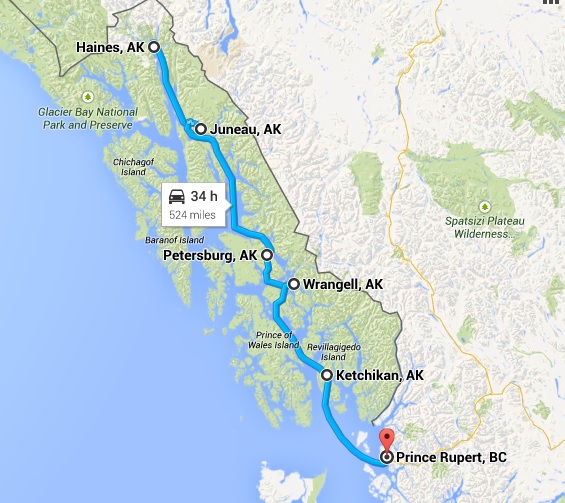 In 1948, three Haines residents Steve Homer, Ray and Gustav Gelotte, purchased a surplus US Navy landing craft and began providing ferry service for up to 14 cars with very crude provisions for passengers. After a couple of years, it proved to be economically unsuccessful and was subsequently purchased by the Alaska territorial government. The service proved useful and was expanded with bigger and better vessels and more towns served. As we mentioned in the Haines posting, the distance by water between Haines and Skagway are only 20 miles apart by water but hundreds of miles distant by car. Other cities in Alaska, including Juneau, the capital, are totally unreachable except by boat or plane.
The Alaska Marine Highway System over the ensuing decades now transports folks, vehicles and freight over the broad range from Bellingham, Washington over 3500 miles to Dutch Harbor, Alaska in the Aleutian Islands.
As I was working on our itinerary, I had us in the Wrangell-St. Elias area with plans to go down towards Washington and the ferry seemed to be a perfect way to give us a break from the drive, fuel and hotel costs and let us see the Inland Passage. My haste didn't allow me to see that there was no direct road route to Haines for our trip, another case of serendipitous planning taking us to a particularly enjoyable part of our journey.


Our ferry ride took us about 475 miles by water in 39 hours to cover what would have been 915 miles by highway over perhaps 3 days. Had we driven to Prince Rupert, we would have seen some parts of British Columbia that we didn't but we would have missed the Inland Passage and all its beautiful sights. You do miss things in the truck as you're making miles and watching for signposts and directions. You also miss some of the conversations and people watching opportunities.


We drove onboard on a ramp which took us down to a lower level of the ship or the car deck. The car deck held all manner of vehicles. There were passenger cars and pickups like ours. There were tour buses and motorcycles. There were huge RVs, both motorhomes and fifth wheel campers. There was a truck pulling a boat on a trailer and there were the trailer halves of tractor trailers that were traveling unaccompanied and maneuvered about by tractors at their embarking and disembarking ports.


While at Homer, we had seen the MV Kennicott loading but it had a vehicle elevator and turntable for ports that don't have facilities for the ramps. The car decks are secured and not accessible to passengers while underway. Folks traveling with pets bedded them down in the vehicle and went down to check when we pulled into port.
After securing the truck, we went upstairs to the purser's desk for our cabin assignment and keys. We had reserved an outside cabin but some folks had plans to stay in the common areas or even to pitch a tent on the upper level sundeck (which has heat lamps under the roof).


The three bunk outer cabin has an upper and lower bunk on one bulkhead and a single lower bunk at right angles and against the outer bulkhead with a square window above. There is also a fold down desk in one corner. There was a small head with a shower stall, a sink and a toilet angled into the corner. While usable, it required a bit of thought about what you intended to do in figuring the way you entered.


The deck above the cabins has a forward observation deck with comfortable chairs and a panoramic view. There is even a small kids' play area and some tables for games and cards.


Immediately aft of the observation lounge is a bar and lounge which sometimes has a musical performer. Over the course of our trip, we only saw a few folks here. Continuing aft, the line for the cafeteria runs along the starboard side and the cafeteria was open all day except for an hour before each meal change. Overnight, sandwich service rather than hot meals were available. Aft of the cafeteria's serving line was a dining area that was open around the clock.


Each deck also had an open area on the stern. There were two or three areas on the outer decks where smoking was permitted at times.


Our route included four stops before our final destination of Prince Rupert BC.


Our first stop was at the ferry docks outside of Juneau. The dock is located north of the main part of town in Auke Bay like the dock in Haines so we didn't really see the town. We were in port a couple of hours and there were vans waiting at the dock to take folks into town for a tour. We chose to stay near the dock and enjoy the warm sunshine.
Juneau was established in 1880 by Joe Juneau and Richard Harris. They discovered gold in nearby Gold Creek. The mine eventually became the largest operating mine of its kind and operated from 1880 to 1944. The capital was moved to Juneau in 1906 from Sitka. Points of interest besides the mine include the Mendenhall Glacier and the Capitol Building which is trimmed in Tokeen marble mined in SE Alaska.


After we left Juneau, we threaded our way south towards Ketchikan. Late in the afternoon, we made our way to the observation lounge where we were delighted to see whales out in front of us. There was a tour group in the observation lounge at the same time and the group would call out when one was sighted making it easier to spot them. We also saw seals on a chunk of ice and boats fishing.


Later, we had a conversation with one of the crewmen whose job includes steering the ship. He told us that the whales were humpback whales and orcas. Environmental concerns force the ship to slow or change course to avoid them, at times even coming to a dead stop when there are just too many whales to safely proceed. He told us that the ships sonar setup allowed them to see and identify the whales even underwater. He also told us of watching a humpback whale on the sonar once that was being pursued by orcas but that the humpback is able to dive deeper and more steeply and escape the orcas if the water is deep enough.


The scenery throughout our trip continued to be breathtaking and the sunset over the mountains and on the water was captivating.


Another conversation we had with fellow travelers gave us tips for our return trip home. This particular couple had traveled part of the AlCan as we had but their trip had taken them further north into Yukon Territory and on the Top of the World highway. He shared that their trip had been over less friendly roads and had probably more closely resembled the conditions found by my family in their trips over the AlCan in the early 1950s. These folks were from North Dakota and asked about our route home. They recommended that we consider the North Dakota Badlands on our return route. We took their recommendation and were glad that we did.


Our conversation with the woman working the cash register for the cafeteria line told us a bit about their jobs as well. The crew, depending on the route and ship assigned, may leave home and stay onboard for 2 weeks. When they reach the end of their two weeks, they have two weeks off before repeating the cycle. Depending on the job, they work 12 hours per day, perhaps split into 2-6 hour shifts.
We retreated to our cabin for the night and slept well, only waking when we pulled into our stops in Petersburg and Wrangell during the night. From our cabin window, we could see buildings that looked like they belonged on a pier, some type of warehouse or terminal and bright lights in the darkness.


The next morning, we were back walking around on deck watching the scenery roll by. As we approached Ketchikan we saw several lighthouses and even a USCG helicopter land at one of them. We pulled into a busier port at Ketchikan than we had been seeing.


The Tongass Narrows, the waterway leading to the town's docks, was in use by fishing boats and working boats of all sorts. This was also the channel that served as the local seaplane strip. On the opposite side of the channel from town was an elevated airport on Gravina Island. The airport is connected to town by a small ferry which takes about 7 minutes to cross from side to side. You may remember the Tongass Narrows and Gravina Island as the "Bridge to Nowhere" which gained notoriety as an earmark in the 2005 Federal budget. Perhaps I should also ask whether you remember Federal budgets and appropriations bills as opposed to "continuing resolutions"? Gravina Island has only 50 residents and the bridge (at an estimated cost of almost $400 million) was labeled as a particularly egregious example of government waste in the form of pork barrel spending. Proponents of the bridge said it was not just for the benefit of the 50 residents but to allow development of Gravina Island.


Our stop in Ketchikan was scheduled for 4 hours to allow the ship to take on diesel fuel to continue our trip into Prince Rupert. Since we had been unable to find postcards since leaving Haines, we disembarked and went into the commercial area near the dock. We tried a hotel and a restaurant and finally found the postcard at an A&P (Alaska and Proud) grocery store.


We went back onboard for lunch and asked the purser about mailing our postcard. She told us that it wouldn't go out until after the ship went back north the following week but told us the post office was at the edge of the ferry dock parking lot so we went back ashore to the post office.
Leaving Ketchikan, we stayed within the Tongass Narrows for some time and got to enjoy some inland scenery from the water.


We were going to be landing in Prince Rupert around midnight and didn't have reservations. We overheard some folks talking about driving on to Prince George as they expected it to be hard to find rooms in Prince Rupert. Prince George is 9 hours from Prince Rupert and while the fog would surely dissipate as you left the coast, it didn't seem like a palatable alternative to us. The purser did have a list of hotels in Prince Rupert though with phone numbers. One of our fellow passengers was a German woman who was traveling without a vehicle and she was also trying to make arrangements for lodging but the language was creating a barrier for her getting recommendations. It wasn't clear about how to get from the docks to the hotels and she was getting frustrated. We did share that the list was available and gave her one. We didn't see her again and hoped she made a connection that was suitable.
We pulled into Prince Rupert in a heavy fog and the line at Customs was slow as the whole ship unloaded at once. We passed through relatively quickly (considering the line) and found a room just a couple of miles away at the downtown area of Prince Rupert.
You can see all of the pictures from this leg of the trip here.
We invite you to continue along with us and hope you enjoy the account!