After a good night's rest in Anchor Point, we loaded up and headed back into Homer.


We had one recommendation but went instead to Maura's Cafe and Deli in the old part of Homer. They looked to be doing a great business and we believe in the old adage to eat where the locals eat.


When we went inside, there was a line to order and no seats to be had. By the time we got to place our order a couple of tables had emptied out. We both ordered the quiche and were given a plastic giraffe to take to the table with us instead of a number.


As we waited, it became clear the morning rush had been a good one and they were running out of things. We enjoyed our meal and went out to explore.


There was an interesting tableau of buoys on the porch of the store next door.
Then we followed the road down to the beach and on out to the Homer Spit. The Homer Spit is 4.5 miles of land sticking out into Cook Inlet and home to both deep water on one side and shallow water on the other. The theories to its origins differ with one suggesting that the Spit is the result of glacial movement and one suggesting that it's the buildup of sand deposited by the comings and goings of tide and wave action over millennia.
The spit includes a fishing lagoon which is stocked each spring from the nearby salmon hatchery.


On this particular summer Sunday, the Spit was packed with tourists (just like us) in all manner of vehicles from compact cars and bicycles to huge RVs. At the water end, the M/V Kennicott, part of the Alaska Marine Highway System (ferries operated by the state) was loading. We stopped to watch for a while and then noticed the birds. In this case, the birds were bald eagles. In total we probably saw 4 of them.


Among other things, Homer is known as the home of the Bald Eagle Lady, Jean Keene. Ms. Keene had been feeding the eagles for years before the town passed an ordinance making it illegal to feed them. One renowned photo of Keene shows her sitting on the ground and feeding 24 of the birds clustered around her. Homer's ordinance, passed in 2006, granted a reprieve for Keene who had been feeding the birds for 25 years at that time. The reprieve was only to last until 2010 but Ms. Keene passed in 2009.
The eagles, in such abundance, were said to be a nuisance by appearing threatening to humans as well as small dogs and other birds. ABC News reported in 2007 that any close up picture you had seen of a bald eagle was likely taken in Homer. Their presence contributes to the tourism in Homer, even in the winter.


After watching the eagles and the ferry load for a bit, we headed back towards town and stopped at one of several collections of small shops built on stilts above the ground. The shops were an eclectic mix of tour offices (go fishing, climb the visible but distant glaciers, boat tours, etc.) and restaurants and shops of all descriptions. The wares varied from Made in China fare to high end art piece carvings of all sorts.


We stopped in one shop which sold antiques and curiosities and talked with the shopkeeper. One item he had was an "electrician's knife". It was the same style of knife I have in my toolbox with a single sharp blade and a screwdriver that I had since my days in Uncle Sam's Underwater Canoe Club. If I didn't already have mine, I would have bought it ($10) on general principle.


There is also a Seafarer's Memorial to those lost at sea but we didn't see it, only found out about it in our research to write this piece. It's not particularly tall and is on the edge of a parking lot which was filled with campers and vans the day we were there.


Feeling that we had seen most of what we wanted to see in Homer and on the spit, we turned inland and generally north headed back towards Anchorage.


Since there is largely one road in and the same road out, we repeated the same beautiful scenery along the coast and stopped in Soldotna for a late lunch/early dinner at Buckets Sports Grill. The halibut sandwich and clam chowder were just the thing to power us on our way.
We passed through the Funny River fishing region again. There seemed to be more folks out on the riverbanks than there had been the day before but still couldn't tell if anyone was catching or what they were catching. Traffic was moving well but was a bit heavier through here.
After we passed the Alyeska Resort area, traffic was noticeably heavier and very soon came to a complete stop. At first we theorized an accident up ahead (and there may have been but we never saw signs of it) but it seemed to just be heavy volume of weekend travelers headed home on Sunday evening plus the squeeze from two lanes to one as we squeezed between the mountains and the water as it moved along again as the alternate roads became available going into town.


This Sunday in Homer marked the halfway point. We had been gone from home 21 days on what was to turn out to be a 42 day trip. We were also as far from home as we were going to be. Google maps shows Homer to be 4,469 miles from home and we had driven 6,581 miles following a different route through the continental US and numerous side trips.
We got on the phone and booked a room at the Golden Lion Best Western in Anchorage. It was time to call it a night.
When we started planning out this trip, we had picked a number of "backup" locations in the vicinity of the Wrangell-St. Elias National Park in case we hadn't seen them earlier, places like mines and glaciers. With plans to possibly pass through that area, it made sense to book passage on the ferry from Haines to see the Inland Passage. We needed to be in Haines on the ferry on Friday morning or stay another week.
The combination of the reservation plus having seen mines and glaciers and the realization that several of the sites in Wrangell-St. Elias would be rough and slow road in a drive in and then reverse and drive back out the same road lead us to decide to skip Wrangell and concentrate on making our way to Haines, some 975 miles from Anchorage via the roads.


On Monday morning, we started making our way towards Tok via AK-1. This was a different route than when we had left Tok. The scenery was beautiful and the skies were clear, unlike when we had first gone from Fairbanks to Anchorage.
Traveling this way, the roads were more hilly and curved and along the way, we would pass by the Matanuska Glacier. The Matanuska Glacier was described as a "drive-up" glacier, unlike Exit Glacier where one has to climb the hillside to reach the glacier itself.


Betty describes the side trip to Matanuska as "chasing butterflies", a phenomenon that was really one of the highlights of this trip. Without a firm agenda or schedule to meet, we were able to chase a butterfly off on a side trip. Matanuska is a valley glacier meaning that it is lower in elevation and occupies the land between two hills or mountains.


We allowed a half hour or so to make the trip to the drive up glacier just since we were so close. From our vantage point on the highway, you could see the Matanuska Glacier below us in the valley. There was a winding dirt road off the highway to get down to it. We crossed over a narrow high bridge of planks and steel. You continued along until a house and store where you bought your tickets.


From there, you passed through a gate and then it was about a mile to the toe (foot?) of the glacier. We pulled up in the parking area with the other vehicles and started making our way across the black and wet moraine to the glacier. We walked for a ways before realizing there was a marked path on the other side of the water and walked back towards the truck to reach the path. We later discovered the path started from the other end of the parking lot.


The way out included planks over some of the wetter and trickier areas. There was a group with a guide who were on their way farther out into the middle area of the glacier with their ice spikes. We stopped for a few pictures along the edge and then began making our way back. A family that looked to include Grandma, Mom and Dad, and the kids met us coming the other way. The passing on the planks required some coordination but we safely passed.


About two hours after we had taken the turn on to the dirt road, we were once again on our towards Tok where we stayed again at the Golden Bear Lodge. We have discovered since being home several versions of the origins of the name Tok. Several conflicting sources exist but there is a reference to it being known at Tok as early as 1901. It does represent the junction of the Alaska Highway and a cut-off which allows lower 48 travelers to reach Anchorage and Valdez without proceeding further north to Delta Junction.


We left the following morning for Canada, crossing into the Yukon Territory and stopping for lunch at Destruction Bay. We continued south past Kluane Lake and took the turn in Haines Junction where we continued through beautiful scenery. This stretch of road is particularly desolate, though in good repair.


The highlights of this stretch include more mountaintop glaciers, a couple of airstrips and a trio of trumpeter swans alongside the Haines Highway. We also noted several signs advising that snow plows might be in your lane so beware!
About 7:00 that night, we reached the Customs station at the border back in to the US. It looked deserted but we sat and in a few minutes the agent came out of the building. He was friendly and chatty. We hadn't seen a car in the last 80 miles or so and figured he spent a bit of time by himself unless he walked over to the Canadian side and talked to their agents. He remarked that he didn't see too many Maryland plates up that way. He also said he didn't see many from his home state either. We asked where that was and he told us Hawaii. He had the opportunity to come to this station as a temporary summer assignment but assured us he would be back home before winter hit.
Before we left, he gave us the brochure for Haines including a list of lodging. On that road, that's the only place you could possibly be going. We wished him well and went on our way.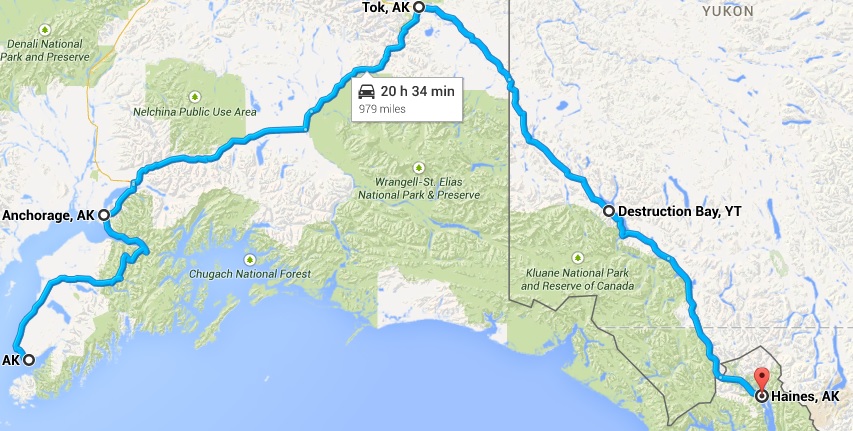 You can see all of the pictures from this leg of the trip here.
We invite you to continue along with us and hope you enjoy the account!