Friday, Betty and Keith had breakfast at the Hatteras Island Inn (formerly the Comfort Inn) and then set about our day which included a stop at the Really, Really Free Market in Salvo. Friends at home had filled two storage containers with needed and requested items. We had a piece of carpet and some clothing to contribute as well. The carpet remnant, we were told, was being set aside for a local 80 year old woman who had been through this ordeal without insurance and was putting things at home back together.
Betty and Keith had set out to locate some of the many shipwrecks for which we had found GPS coordinates. After finding one last spring, that seemed like it would make for fun.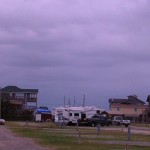 As we headed north from Salvo, we took a bit more time to check off the main highway for remaining damage. The KOA campground was open for business. They had cleared the portion near the ocean and were working their way back toward the highway. The camping cabins (basically shell sheds with built-in bunk beds) looked to be basically undamaged but had been floated off their footings. The ones that appeared undamaged had water damage to worry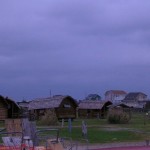 about but were structurally sound. The bathhouses all had siding taken away to allow drying out.
The Chicomacomico Lifesaving Station was closed. Reports on the interwebs had indicated there was much cleanup to be done as well as resetting on footers.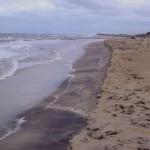 We drove again over the new bridge and stopped to get some pictures by walking through the dune line to the beach and coming around. The speed with which the current moved through the inlet was impressive. I've tried to get some pictures but am not sure they really convey the current. It makes one wonder how much more the inlet will open in the unfortified sections with time.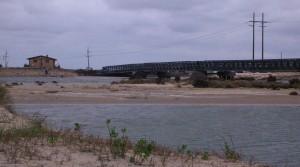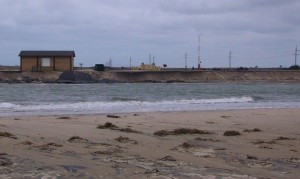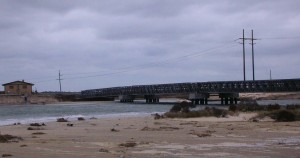 We stopped at the Coquina Beach day use area to see if we could find the remains of the shipwreck there. Like most of the wrecks, changing sand profiles will expose or cover from season to season. We didn't find it this time.
Next we headed further north to Nags Head for lunch. Having heard so much about Sam and Omie's across from the new pier. They were busy and we had about a 20 minute wait. The food was good, the clientele and food were local as well. Betty had the mushroom and crab soup and an order of onion rings. Keith had the scallop cake Sam-wich, think crab cakes make with scallop bits. If we lived nearby, they would be on our regular rotation for lunch but don't qualify for driving 50 miles just to eat there. Good and repeatable but not a special treat to work for. When we came out, it had started to rain lightly.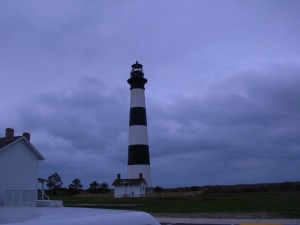 We turned south again to the Bodie Island Lighthouse. Bodie Island Light was/is under a major renovation. When the funding ran out, they took down the scaffolding until more funding allows them to continue the work. The light is removed from the structure for now and will be replaced when the renovations resume.
Next stop is the Oregon Inlet fishing pier. During Irene, all the fishing boats left for less exposed locations. The flooding damaged the piers which delayed the reopening and return of the fleet. Now with new piers installed, life appears to be near normal again.
Before leaving home, we had entered the GPS coordinates for several known shipwrecks which are sometimes visible from the beach. As we passed Salvo, we noted three showed on our track as being nearby. We entered the beach access ramp 23. The GPS coordinates revealed three near to the ramp. The first was just as you entered the beach.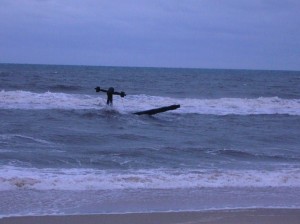 According to the coordinates, we were literally right on top of it. If the coordinates were correct, this particular wreck wasn't visible at this time but there were two others in the vicinity. As we drove north on the beach, we saw what looked like it could be a buoy that had blown up on the beach similar to one we had seen on a past trip to Carova. As we got closer, we realized that we had found the remains of a sidewheeler that had wrecked on the beach in 1862.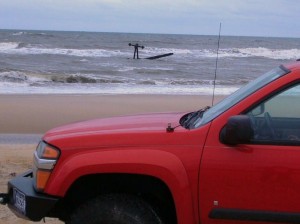 It was just offshore, inside the breakers. The pieces we saw were iron and probably the remains of part of the propulsion machinery. We were 1 for 4.
We moved further down the island and decided that timing was such we could probably hit the shopping area at the ferry landing and move on to another wreck site that we had seen last spring. The remains of an unidentified ship, probably a schooner, can be found at the end of Flambeau Road in Hatteras Village. We parked and walked over the low dune line on a boardwalk. Considerably more of the wreck was visible than had been in either of our spring visits.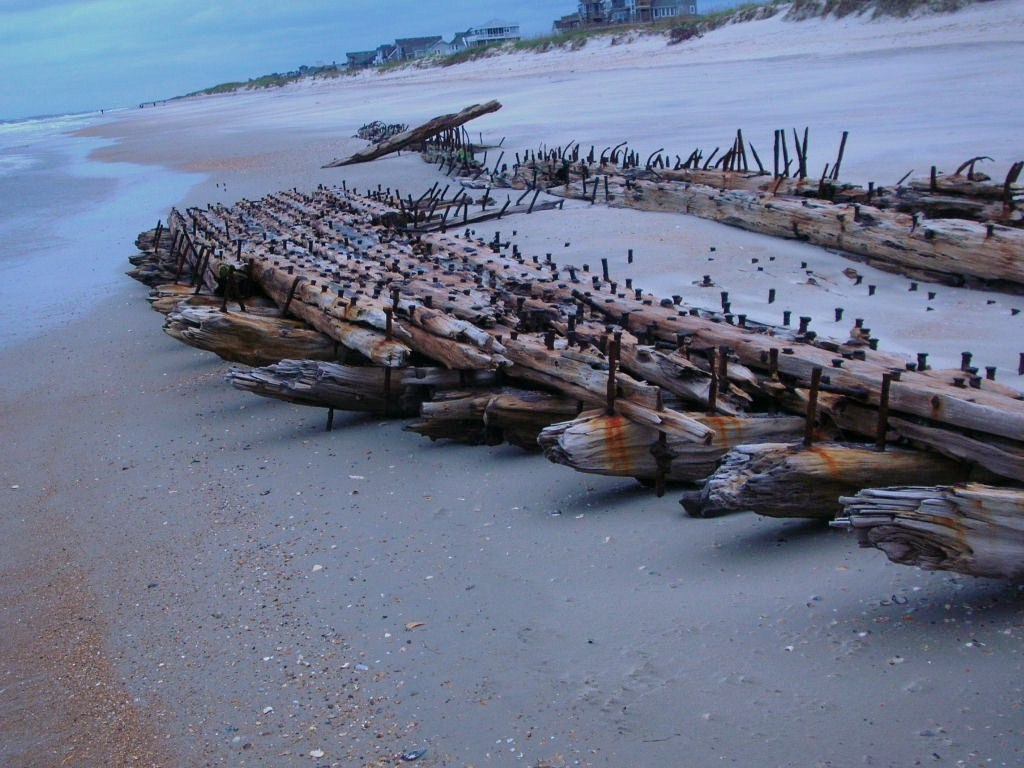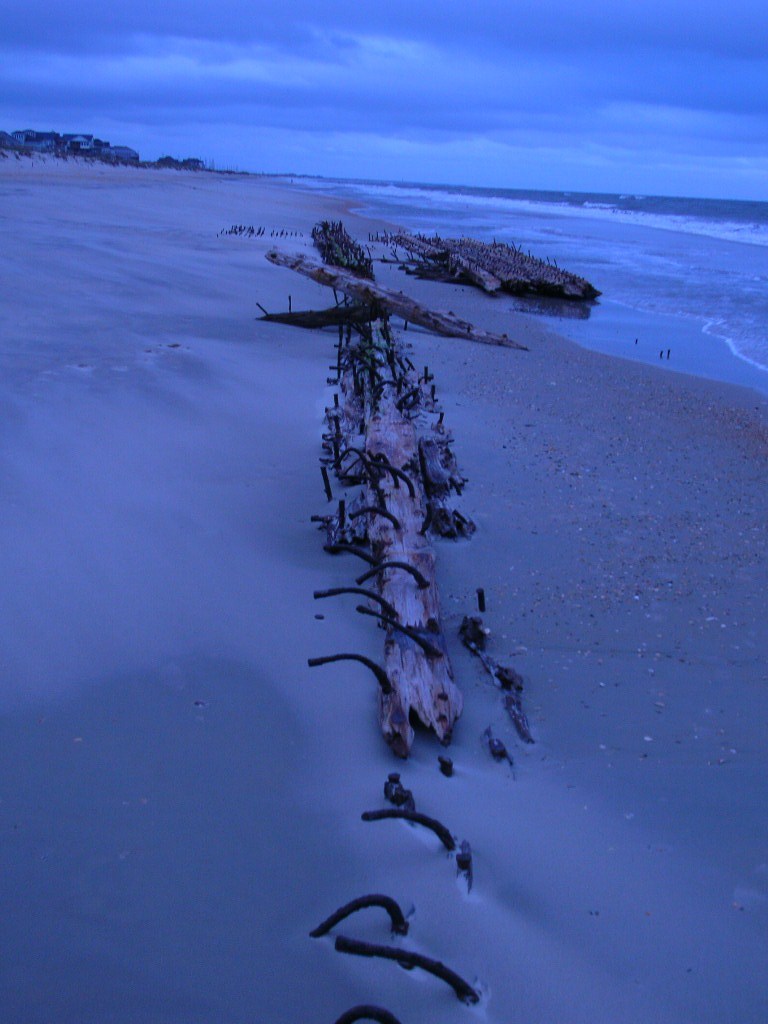 We then joined Jeremy and Rosemary, Bruce, and Janet for dinner at the rented house, Wave Hopper. As we pulled in the carport, we noticed a nail lying on the concrete. As we looked around, we noticed a few more, and then a few more. By the time we had arrived at the top floor, we had picked up easily two dozen or more ranging from roofing nails to siding nails to 10 penny galvanized nails. Apparently a roofer had been doing some patchwork after the hurricane and been less than meticulous about picking up loose nails. To the best of our knowledge, no one's tires helped us pick them up. Our delicious dinner was a cooperative effort on their part and included salad, red potatoes and individual shrimp and scallop casseroles. Accompanying our dinner was a Chilean grape merlot which had been bottled by Jeremy. For dessert, Rosemary had made a sweet potato pie. We enjoyed our meal and some fine company afterwards.
We headed for the hotel around 9:30. It's about a 6 mile drive and midway we met a Dare County Sheriff's Deputy coming the other way. Just as we pull even with him, he flashes the blue lights and pulls a u-turn after we pass. Assuming he is responding to an emergency call, we slow down and move over to let him pass but he just stays right behind us with the blues flashing. We pull over and turn on the interior lights while waiting for him to walk up and introduce himself and state his business. It turns out we have blown a headlight and he is concerned for our safety since the local deer population has been rather active. In fact, we had observed a pack of raccoons the previous night.
After asking where we were going and where we had been, he advises us of an auto parts store near our hotel and asks if I'd had anything to drink. I honestly replied that I'd had a glass of wine with dinner several hours earlier. He asks for my license and goes back to his car. When he returns, he has the mobile breathalyzer and asks for a sample. He goes back to the car and returns a few minutes later and informs me that I'm not impaired. While a number of things pass through my mind, the only thing out of my mouth (thankfully the filter was working) was thank you and have a good night.
We head back to the hotel, check email, and get ready for bed.