Our Tuesday plans were to visit the historic area including several of the squares in Oglethorpe's design and to head back to the riverfront to take some pictures to share. On Wednesday, we did a little shopping and drove out to suburban Savannah to check out a housing development as one of our objectives this trip was to consider possible retirement locations.
Breakfast was once again at the conveniently located (and tasty) Atlanta Bread Company and then off to the Tourist Bureau for some information and a parking pass.
Savannah offers a one or two day parking pass for tourists which saves the hassles of finding the right change for parking meters and actually winds up being cost effective for the parking garages and meters. Its one of those things you don't see advertised much but is definitely a convenience factor. Look into it if you're driving in town.
VISITOR DAYPASS – Visitors may purchase a two-day parking pass for $12, or a single day parking pass for $7 from the Savannah Visitors Center or the Mobility & Parking Services Department.

This pass authorizes free parking on meters of one hour or more, free parking in the City's lots and parking garages upon availability, and allows exceeding the time limit in time-limit zones. Visitor DayPasses must be filled out with appropriate information to be valid and will not be honored during special events. Parking in Savannah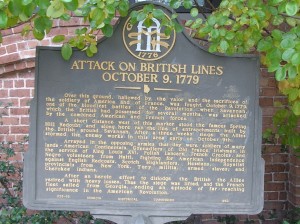 We started down Bull Street, parking along Monterey Square. We just happened to park in front of this brightly decorated door on Gordon Street to begin our walk.  Across the street was Congregation Mickve Israel, home of the third oldest Jewish congregation in America.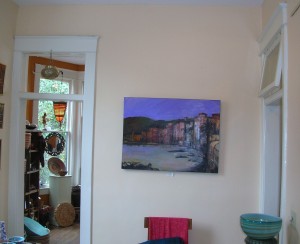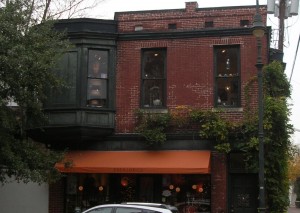 Just around the corner on Bull Street was this little shop called Folklorico. Its housed in a building which was previously a street-level shop with living quarters above. Now both floors are part of the shop and the stroll through was as interesting to see the building as it was to see the shop's wares.
We wandered into one of the little shops located under the main floor of a house on Monterey Square. This one, V & J Duncan Antique Maps, had a collection of antique maps, books and postcards which was a diversion and very interesting. We even found old postcards from Oberlin College in Ohio!
Forsyth Park is a large (30 acres) green area in the center of Savannah's historic district. In addition to the elaborate fountain, there is also a Confederate memorial, flower gardens and recreati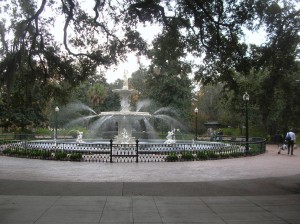 onal fields, even a venue for the occasional concert.
Every St.Patricks Day the fountain is ceremoniously turned green in celebration of Savannah's deep Irish heritage.
Major General Henry R. Jackson was an attorney and an officer for the Confederacy during the American Civil War. The building was used as Union Army headquarters during the occupation of Georgia. Jackson didn't purchase the home until 20 years after the war where he lived until his death in 1898. (Jackson is one of the famous who lie in Bonaventure Cemetery.) His home later became the Oglethorpe Club, the "oldest gentlemen's club in Georgia." Organized in 1870, the Oglethorpe Club was established by a group of Savannah's leading citizens. It still remains a fashionable private club today.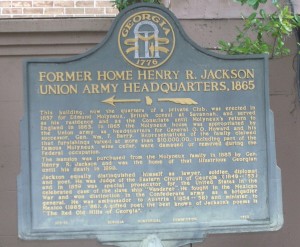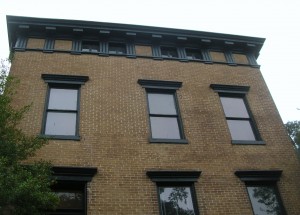 Pulaski Square is probably best known for the live oak trees growing there. Casimir Pulaski is best known for being a Polish-born hero in the American Revolution. Pulaski Square has the marker shown in the picture but the statue of Pulaski is located in Monterey Square. The cornerstone for Pulaski's statue was laid in Chippewa Square but funding ran out before the statue was completed. Pulaski (the man) was mortally wonded in the Siege of Savannah in 1779. The place where he died (and is buried) is not known with certainty. There were reports that he died at sea enroute to Charleston SC and was buried at sea. There was also persistent belief that he actually died at Greenwich Plantation near Savannah. Someone's body was dug up from Greenwich Plantation and that body could have been Pulaski's so they were moved to Pulaski Square and enclosed in a metal case. The Gerogia Historical Society thinks they have the fatal shot removed from his leg. Despite all the apparent confusion, Casimir Pulaski was a Revolutionary War hero and is memorialized here. (In our modern age of forensics and DNA analysis as popularized by television series, the confusion seems particularly quaint to us.)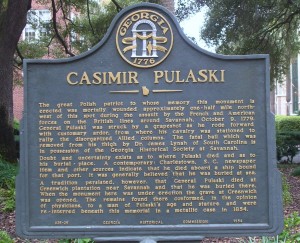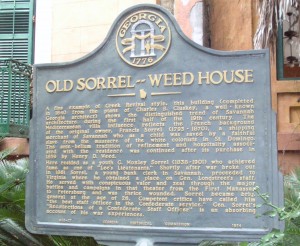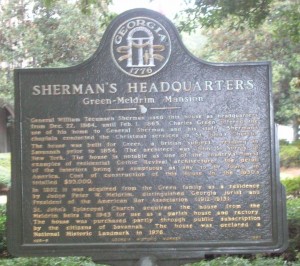 On Madison Square, we saw this eye-catching structure. On the first floor, the appearance was of a fancy shop of some sort with the name Gryphon. We decided to check it out and discovered that it's actually a restaurant/tea room run by the Savannah College of Architecture and Design (SCAD). Since it had been a while since breakfast and didn't appear too crowded, we dropped in for a late and light lunch. As it turns out, the first floor once housed an apothecary's shop and retains many of the original furnishings, particularly around the edges. Since then, I've seen several online reviews which were mixed but we were quite impresed our salads, soup and sandwich. The architecture and ambiance make for a pleasant stop. The name Gryphon is pulled from a clock over the elaborate interior shelving. We were "privileged" to eat on the small stage with an excellent view of the interior as well as an outside view of the passersby.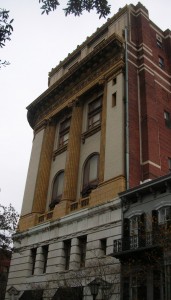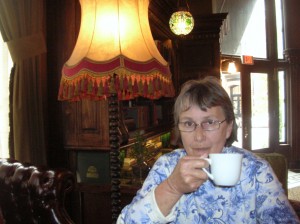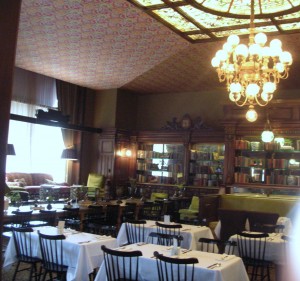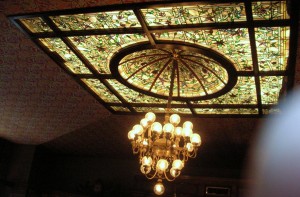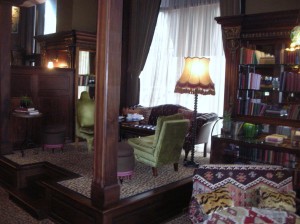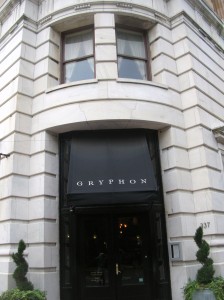 With our appetites satisfied, it was back to the car and off for the river front. Thanks to our parking pass, we pulled into one of the public lots along the river and pier. Looking downriver, we saw the Talmadge Memorial Bridge. The structure is dedicated to Eugene Talmadge, who served as the Democratic Governor of Georgia in 1933-37 and 1941-43. The new bridge was originally named for the Native American Creek leader Tomochichi, an important figure in Savannah's founding in 1733. After public forums on the issue, the original name was restored for the new structure.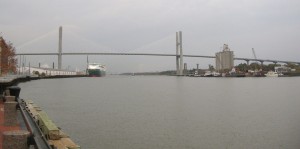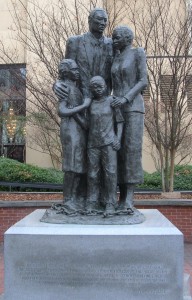 A statue memorializing the slave trade that stands looking out over the water on the River Street boardwalk caused controversy in the city, which is 50% black, partly due to its inscription, a quote from the poet Maya Angelou: 'We were stolen, sold and bought together from the African continent. We got on the slave ships together. We lay back to belly in the holds of the slave ships together in each other's excrement and urine together, sometimes died together, and our lifeless bodies thrown overboard together.' This sentiment caused such divisiveness among the city's residents that Angelou added a final thought: 'Today we are standing up together, with faith and even some joy.' Statue was erected in 2002.
Late Tuesday afternoon, we went to check out a couple of shopping malls (which turned out being close to our hotel). We weren't looking for anything in particular, just trying to get a feel for the area as a place to live, instead of just visit.
Wednesday morning, we headed back downtown to do a little shopping ("There was this store across from the bakery with the wooden goose in the window…")
Wednesday was also an opportunity to sample the food at the Pink House which had been recommended. We arrived for lunch and were seated in the bar area but we peeked in all the dining areas on the way in. The food was delicious. Keith had shrimp and grits. The grits were fried in a square almost like a piece of toast. Betty had the shrimp and scallops in Parmesan Cream Sauce over Fettuccine. The cheese bread straws could be habit forming!
After lunch, we headed over to the southside suburbs to check out housing developments. The man at the sales office was pleasant and helpful but our current thinking is that is not quite what we'll be looking for when/if we leave Maryland.