After checking out Garden City and Pooler GA, we headed over to Beaufort SC. Its about an hour drive. We had tried to get reservations at the Hilton Garden Inn in the central district and quickly learned one of the facts of life about living in and around Beaufort. Due to the proximity of the Parris Island USMC Recruit Training Depot (boot camp), hotel rooms are in short supply on Wednesday and Thursday nights as families are in town for Family Days and weekly graduation ceremonies. Graduation takes place 38 weeks of each year. Fridays are heavy checkout days and rooms are rarely available early. In making the reservations, we learned that room rates are significantly higher on those nights.
Betty had found an excellent little guide book to help with our familiarization with the Beaufort area. We went to the park at Pigeon Point and then headed into the historic area.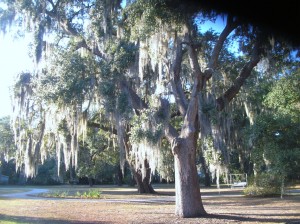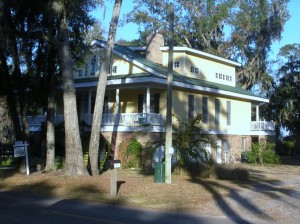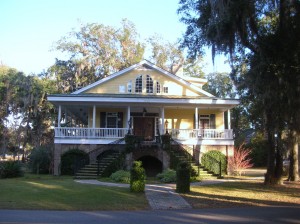 In addition to many homes, we found this historic African Baptist Church and the light seemed just right to grab a picture or two.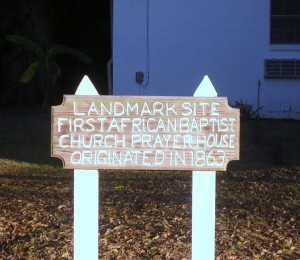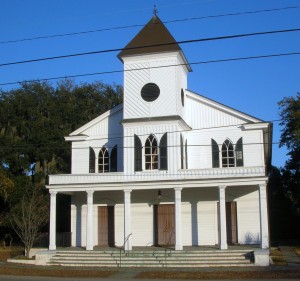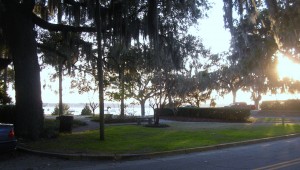 Following our self-guided tour of the historic district, we decided to check out shopping options in the local area while we awaited the arrival of our friend, Bruce. We went to the Cross Creek Shopping Plaza and walked through a couple of stores, including Belk and JCPenney. We skipped the Walmart. While we were walking about, Bruce called to let us know he had arrived.
When we got together, Bruce contacted his friends Eddie and Donna to see if they would be able to join us but they were unable to meet us but we made plans to get together on Friday.
Dinner was on Lady's Island at a place called . Barbara Jeans, a local chain with locations in from St. Simons to Charleston. Bruce had been there before and knew what he was getting. Bruce had the pot roast, Betty had the grilled Catfish and Keith had the crabcakes. All were delicious and the desserts sounded yummy as well but our appetites were well satisfied after dinner.
We parted ways with Betty and Keith returning to Savannah and Bruce headed for Yemassee with plans to meet again the next day.