We started our morning in Anchorage with breakfast and then off to the Hood Canal adjacent to Ted Stevens International Airport to view the seaplanes.

Alaska is a vast state but not dense in roadways. This is a combination of the great distances involved, the harsh environment and the mountainous (in many places) geography. Given the abundance of lakes and rivers, seaplanes are a natural choice for transportation throughout the state.
Scattered around the lake end of the canal are floating docks and numerous seaplanes tied alongside. There were multiple signs advertising tours. After waiting just a little while, we saw a seaplane landing and another taking off. The morning traffic was getting started. Many of the planes are also used for freight and passenger service. According to our reading, over 500 flights per day use the Hood Canal.
We were also able to travel around the hangars area where the planes were stored and we saw that many of the seaplanes can switch out their floats for skis or for wheels and tires. Our driving about even took us to a couple of places where auto traffic was required to yield the right of way to airplane traffic. The area also allowed us to see some of the Alaska Airlines planes taxiing to and from the terminal.
We were a bit surprised that we were able to travel about as freely as we were with no checkpoints.
The clouds turned to sporadic rain and we headed into downtown Anchorage.
We arrived at the edge of Knik Arm of the Cook Inlet just before 10:00 when the Oscar Anderson House Museum was scheduled to open. Parking was scarce but we pulled up behind a Subaru Outback with Alaska plates. There was a young couple waiting nearby. After a few minutes, the young man approached and asked if we happened to have jumper cables. Do we have jumper cables? Remember we've told you earlier we had two spare tires, 5 extra gallons of gas, a winch, enough recovery gear to get us through on our adventure, not to mention two suitcases of clothing, a tool box, a stocked refrigerator and multiple thermos jugs of coffee. As it turned out, we also had an emergency jumpstart pack, a set of jumper cables and an extra car battery, just in case. So, yes, we had jumper cables which started his car quickly. They called the motor club to cancel their request for help and after they left we had a laugh at the tourists from Maryland being better prepared than the "locals" in their adventure mobile.
Oscar Andersen House Museum is recognized as the first wooden framed house built in Anchorage. Mr. Anderson purchased the land it was built on (across the street from its current location) in the 1915 auction that subdivided the city into lots following its selection as the the terminus for the railroad into interior Alaska. Prior to 1915, a tent city had grown up with attendant water and sanitation problems to house the workers who arrived to build the railroad and help harvest the interior bounty.
Mr. Anderson was a Swedish immigrant who had been in Seattle since 1900. Following the US purchase of Alaska from the Russians, he joined the many who made their way north to seek their fortune. He was a butcher by trade and established the Ship Creek Meat Co. on Anchorage's 4th Street. He was also involved in other entreprenuerial efforts which helped the city (which eventually has become Alaska's largest) to achieve permanence.
After buying the land in 1915, he hired two Swedish carpenters to build the house and sent for his family (wife and daughter) to come from Seattle. They arrived in October but the family lived in the tent city until December but were in the house by Christmas. (Swedish Christmas traditionally begins the celebration on Dec. 13 but it wasn't clear exactly when the family moved in.)
Today the house is listed on the National Register of Historic Places and belongs to the City of Anchorage after being donated by the Anderson family. In many other areas, the house might not be thought of as unique but instead as a typical turn of the 20th century home with a parlor, dining room, large kitchen and a mud room off the back. Upstairs are three bedrooms and a bath that was plumbed in later. It is furnished with period furniture and accessories. Its place on the National Register and the fact that it is the only historic house museum in Anchorage makes it worth taking the time to check out. Unfortunately, we got no pictures. As memory serves, it may have been because the camera was due for a battery change when we got distracted by the car battery outside. I've linked their website here . If you go and get pictures, share them with us, okay?
Our next stop was the Alaska Native Medical Center Gift Shop. Betty had found out about this place on the 'net before we left home. The gift shop has many items that are handcrafted by Alaska Natives which we found to be somewhat scarce in our travels and the proceeds contribute to the Alaska Native community at the medical center and a scholarship fund in addition to providing support for the crafters. The wares included jewelry and art pieces. It also included hand carved pieces of ivory. Per Federal law, new marine mammal ivory may be carved only by Alaska Natives and sold only after it has been carved. Old ivory can be carved by non-Natives. Fossilized mammoth ivory may be used by Alaska Natives and non-Natives alike. We had a conversation there with one of the clerks who also cautioned us that marine mammal products could not be taken into Canada (even if just passing through). Items like that would best be purchased and then mailed home. Our discussion with the clerk also included her horror story of trying to get through Canadian customs on a camping trip. Apparently, their customs agent had made up his/her mind that residents of Alaska going camping in the wilds of Canada would have a gun packed away somewhere no matter what they said and so they were required to completely unpack all of their camping gear from the truck to satisfy the agent. I guess we were lucky in that the border crossings were always uneventful. We did enjoy looking around the shop and recommend it as a place to include on your visit.
Our next stop took us back into downtown Anchorage for lunch at Humpy's where we had salmon chowder and a salmon salad plate. Yum!
After lunch we pulled out of Anchorage on our way eventually to Seward but we were anxious to get to Bird Point on the Turnigan arm to witness the tidal bore. A tidal bore is a wave that occurs when the tide moves through a narrow opening such as the Turnigan arm. The tidal bore can be quite spectacular, even to the point of creating a surfable wave several feet in height. It varies based on the strength and height of the tide.
We knew the moon wasn't right for a huge wave but had read stories and wanted to see it for ourselves. We stopped at Bird Point where a park viewing stand is built for just this purpose. We watched as little by little more sandbars and beach were exposed and then we saw the tide had turned and the water was coming back in a wave. I'll apologize for my video skills (and the lack thereof) and share this short unedited clip to show you what we saw.
Its really very much like a wave hitting the beach in the ocean or gulf at very slow speed.
After we got back into the truck and headed on along the arm, we passed some Stand Up Paddlers (SUP) attempting to surf on the wave but not having much luck at staying on.
We continued south another 100 miles to the docks area at Seward AK. The docks were very busy with people all about. There were numerous boats tied to the pier as well as many cars/trucks with empty boat trailers in the lots. There was also a cruise ship tied to the pier.
We saw the fishing boats come in and unload their catch and we got to see the cruise ship gather its passengers and go.
While eating dinner, we overheard one woman talking to her young boys about how big the cruise ship was. We did manage to keep our mouths shut when she told them that the cruise ship was even more massive because 90% of it is underwater. I think someone has mixed their icebergs and cruise ships!
Our hotel was adjacent to the docks and appeared to be one of the facilities built to accommodate the cruise ship passengers when they come ashore.

The next morning, we wandered into the downtown area of Seward. During the Gold Rush of the 1890s, Seward became a drop off point for the miners headed inland due to the ice free harbor of Resurrection Bay. In 1903, a group of speculators began building a railroad from Seward inland but it went bust. But the roadbed for the rails became a trail headed inland from Seward to Iditarod, now known for the Iditarod Dogsled races.
The town itself has a central business district a couple of blocks long with old storefronts now being given over to pubs and a couple of standing hotels. Much of the housing in the surrounding blocks appears to be seasonal, renting out to tourists for the fishing season. We found a pretty good souvenir shop which specialized in Alaska-made (not Alaska Native made) goods which probably does a pretty good business.
On the waterfront, there is a park with a cairn marking mile 0 of the Iditarod and the Alaska SeaLife Center, Alaska's only aquarium and ocean wildlife rescue center. Although we passed by, we chose to skip it and try to see our wildlife in a more natural setting.
We rolled out of Seward heading north with our sights set on Exit Glacier.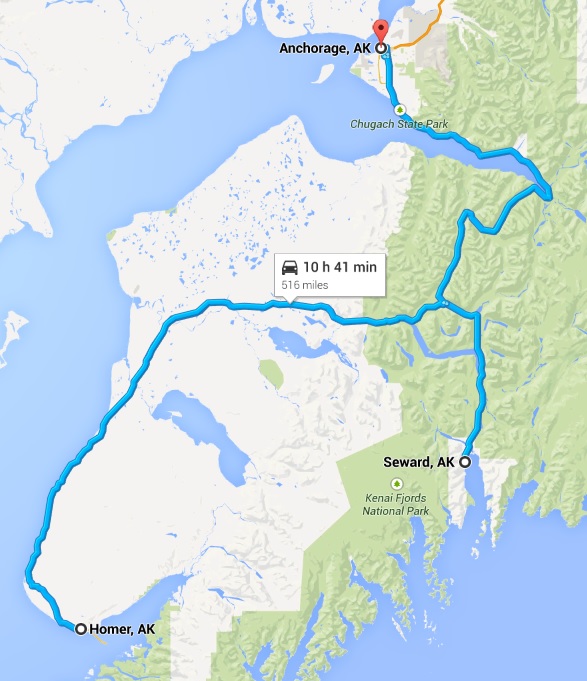 You can see all of the pictures from this leg of the trip here.
We invite you to continue along with us and hope you enjoy the account!