When we told friends that we would be staying in Flagstaff, several recommended that we include Sedona in our plans. When we mentioned we were including Sedona in our plans, the recommendation was to avoid the Interstate and make sure we took the scenic Hwy 89A. When we told the GPS we wanted to get from Flagstaff to Sedona, our plotted route sent us along scenic 89A.
We left Williams and headed back towards Flagstaff. We planned to go on one of the Jeep tours into the Red Rock country around Sedona on Sunday so decided to drive down and check out the area a little bit rather than just booking over the phone or internet.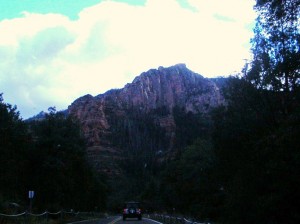 The roadway started out as a two lane paved road moving through rural area actually passing by Fort Tuthill, a recreational campground associated with Luke AFB.
Then the road started to get a bit more scenic and um, interesting.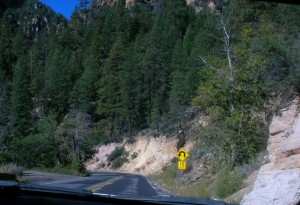 The speed limit decreased and the yellow road warning signs showed what appeared to be more correctly identified as u-turns.  If you drive in the mountains much, you are familiar with switchbacks. Although we didn't get a picture of it, the path on our GPS map screen looked all squiggly, doubling back on itself and reminded of the line from the CW McCall song, Wolf Creek Pass.
Well, from there on down it just wasn't real purdy: it was hairpin county and switchback city. One of 'em looked like a can full'a worms; another one looked like malaria germs. Right in the middle of the whole damn show was a real nice tunnel, now wouldn't you know?  (Bill Fries, Chip Davis)

-CW McCall "Wolf Creek Pass"
The ride took us alongside the Oak Creek. As local schools were beginning a one or two week fall break, the several campgrounds along the creek and in the canyon were full. Traffic was not especially heavy although there were enough cars around to require close attention but we moved along at a reasonable rate.
Along the creek, there were a mixture of private residences, small commercial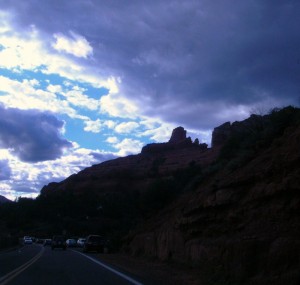 establishments (shops, B&Bs, eateries) and USFS campgrounds.
As we passed some of the more popular businesses like an outside ice cream stand, traffic got a bit heavier and slowed down with more traffic in both directions. About a mile or so outside of Sedona, it was bumper-to-bumper and essentially stopped. It was a pace that would rival the Beltway and 95 North interchange on a Friday afternoon…but on a much smaller scale that didn't last as long. As we crept along we enjoyed the scenery and the deep red color of the rocks that the area is known for.
As we cruised (crept?) into Sedona, the landscape went from forest to citystreet in a very short stretch of 500-1000 feet. This main street was wide and pedestrian friendly with lots of on-street parking and numerous signs to off street public parking.  Wide sidewalks separated the street from one and two story storefronts. The storefronts were an eclectic mix of touristy shops, restaurants, tour operators, artistic galleries and mixed retail. It was almost as much fun to walk along remembering pre-Mall Main St as it was to investigate the shops and watch the people along the way.
We planned to make arrangements for a Jeep tour of the surrounding area the next day and wanted to look at some turquoise jewelry. We had done some research on the internet and there were some shops that had looked interesting but the jewelry wasn't quite what we seeking. We did run into some very helpful and some very persistent shopkeepers but it just wasn't "it". So we bought no jewelry that day.
We did however make arrangements for our Jeep tour. We had wanted to take the Soldiers Pass tour but it was full up (and at 8:00 am) so we booked a combined tour for tomorrow afternoon which combined Old Bear Wallow and the Cowboys and Canyons tour.
It had gotten dark and it was time for dinner. There were plenty of restaurants to choose from and varied in their fare from typical pub fare, various barbeques, Thai, vegetarian and southwestern. We chose the Oaxaca Restaurant for some traditional southwestern/Mexican fare which was quite tasty. The margaritas were pretty good as well.
After dinner, we made our way back to the car and chose to make our way back to the hotel via the interstate rather than run the gauntlet of campgrounds along Oak Creek Canyon. After preparing a couple of postcards, we turned in for the night.