We had breakfast at the Atlanta Bread Company one more time before leaving Savannah, checked out of the hotel and drove to Beaufort. We had reservations at the Hilton Garden Inn in the central district and quickly learned one of the facts of life about living in and around Beaufort.
Our reservation was for 3:00 and we arrived around 1:00. Due to the proximity of the Parris Island USMC Recruit Training Depot (boot camp), hotel rooms are in short supply on Wednesday and Thursday nights as families are in town for Family Days and weekly graduation ceremonies. Graduation takes place 38 weeks of each year. Fridays are heavy checkout days and rooms are rarely available early. In making the reservations, we learned that room rates are significantly higher on those nights.
We met up with Bruce and then followed him to his friend's, Eddie and Donna's, place on Lady's Island. We went beyond the end of the paved roads and turned onto the dirt road leading back to their place. Turning onto the dirt road was interesting as the road went to either side of two large oak trees. At least in our mind, it appeared as if the dirt road was divided and had a landscaped median! (We later found out that the road had been re-routed/doubled as there was insufficient room to allow fire trucks to make the turn should they ever be necessary.)
We had planned to spend some time learning about housing options from Eddie, a custom builder as well as meeting Donna and their horses. Two were shires (draught) horses and one was a thoroughbred. The shires towered over all of us. Eddie and Donna have a few (5?) acres at the end of the dirt road with all the necessary fixtures to support the horses.
They also have a rather unique residence. Its a large metal building with horse stables on one side with doorways to a paddock. On the other side is storage for Eddie's construction business and equipment with large enough doors to drive the loaded trucks in and through. In the center, raised above the main floor is their living quarters. Donna told us they originally constructed the living quarters so they could hire someone to tend the horses and watch the property but decided to move in themselves after it was finished.
Eddie was detained with a builders meeting so we got to spend quite a bit of time visiting with Donna who gave us a tour and shared some insider information about living in the area. She also walked us over to meet one of the neighbors, Jason, who is a caterer and has an interest in old military vehicles. We spent some time with him ogling HUGE trucks and listening to them run. Jason has also rigged a zip line across his property for entertainment. Jason's family also provides temporary foster care for dogs who are between stable home situations. The assortment of dogs ran from a big lab all the way down to a small dachshund who welcomed the additional attention once they decided we belonged there. Remember, dogs are great judges of character so we take their endorsement well.
We enjoyed our visit tremendously and left to go look around the area a bit. Bruce showed us a development called Newpoint tucked off the main road. Newpoint is a residential community built with older, low country styles (big porches, close to the street) and is quite an attractive neighborhood with an older flavor. Nicely done with a few houses for sale and a couple of lots available for building but not in our price range. The neighborhood is definitely walkable with an ice cream cafe at the entrance but the car would be needed for most any other errand.
We grabbed lunch at The Upper Crust at the Shoppes at Hamilton Village. Eddie met us briefly as we arrived on his way to another commitment. He was able to answer some general questions for us as it had been a very long time since we had paid attention to details of modern construction methods. First impressions count and he seemed like someone we could potentially work with if we decide to build in that area.
We next went over to look around in Port Royal. Port Royal is actually an older (30-50 years? mostly) town with the same sort of feel as Newpoint. Houses are more cottage sized. Commercial operations are situated along the waterfront with a big sign announcing a coming condo complex.
Port Royal is a scenic little town across the water from the Parris Island facility. We enjoyed sightseeing there. We also got to watch the sunset over some of the fishing fleet.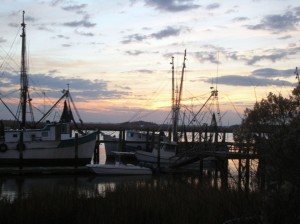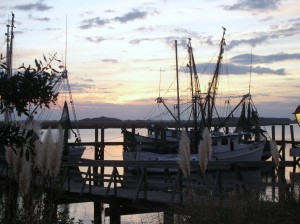 As we watched the sunset, we also saw a couple of porpoises rolling in the water.
After watching the sunset, we returned Bruce to stay at Eddie and Donna's and then returned to the Hilton Garden for the night. Tried to get some shots of the nearly full moon through the trees but they didn't turn out.
We woke Saturday morning and began the drive back home. The most direct route home took us through Yemassee to I95. We passed by the Old Sheldon Church ruins but didn't take time to stop this trip but its on the list for a future trip.
The remainder of our ride home was uneventful. As usual, we enjoyed sleeping in our own bed again.