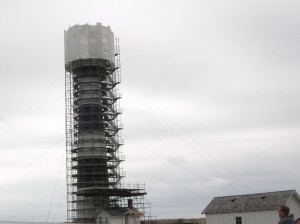 Monday, October 8:
The federal recognition of Christopher Columbus' landing in the Caribbean occurs on a Monday making for a 3 day weekend for those whose work recognizes this as a holiday. We were lucky that both Ryan's and Keith's employers considered it a day off.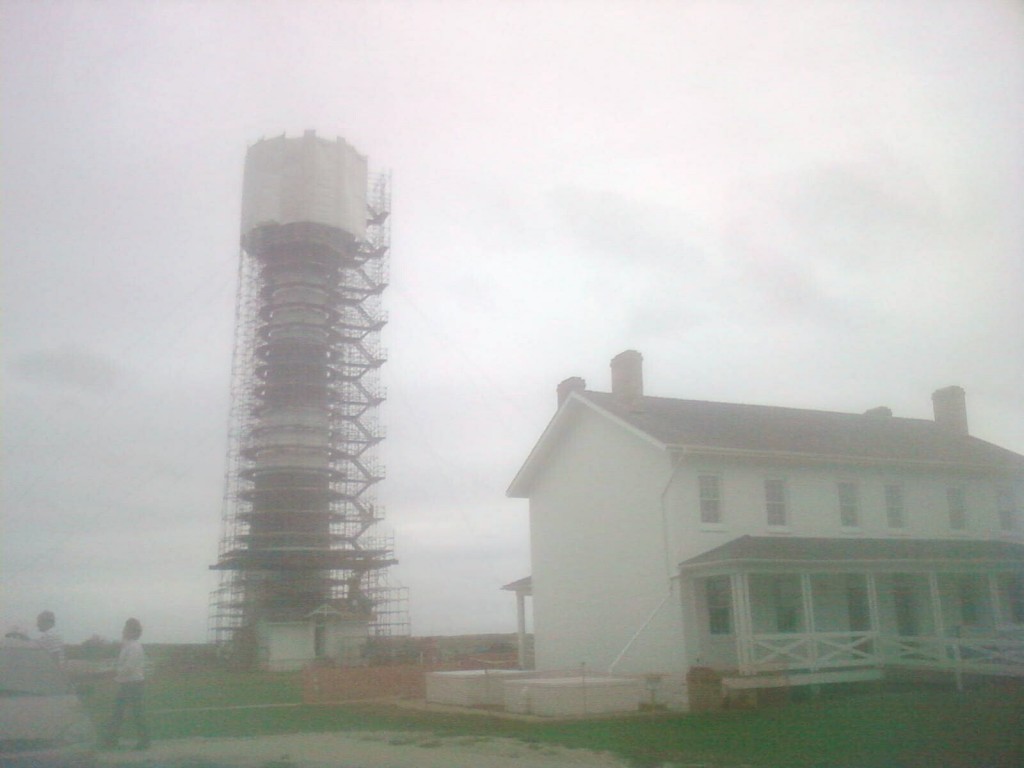 We cleared the room and checked out. Had a few more things we wanted to see and we needed to get home. First stop was the Orange Blossom Cafe  to procure a legendary Apple Ugly. Sweets for breakfast wasn't really going to be enough so next stop was Diamond Shoals Restaurant  for a real breakfast involving eggs and bacon and we were headed north.
.Today's plans include a trip up to Carova at the northern end of the barrier islands to hopefully find the wild horses. Betty and Keith's last trip had been particularly productive in that regard and we hoped to share with Ryan.
The ride up Hatteras Island was more scenic than it had been coming in (since it was daylight and sunny!). We got to see the parasails in Canadian Hole and stopped to take a look at the renovations at Bodie Island Light.
After we got to Nags Head, we shifted over to the beach road to find some recognizable landmarks from Ryan's last trip (1993?). We had stayed at the Sea Oatel then (long gone) and the Holiday Inn Express (still there) and had really enjoyed the Keeper's Galley restaurant (also gone, now a Sushi place).
Somewhere along the way, it started to rain. When we got to Corolla, we took a short hop over to the beach access on
Albacore St. to visit another beached shipwreck we had discovered on a previous trip. We drove down a little ways to see what we'd come to see and then proceeded to go back the way we came.
A drift had built up on the Albacore Street ramp which had been no big deal on the way down to the beach but in going up the ramp, we found ourselves high-centered and blocking the ramp. We tried several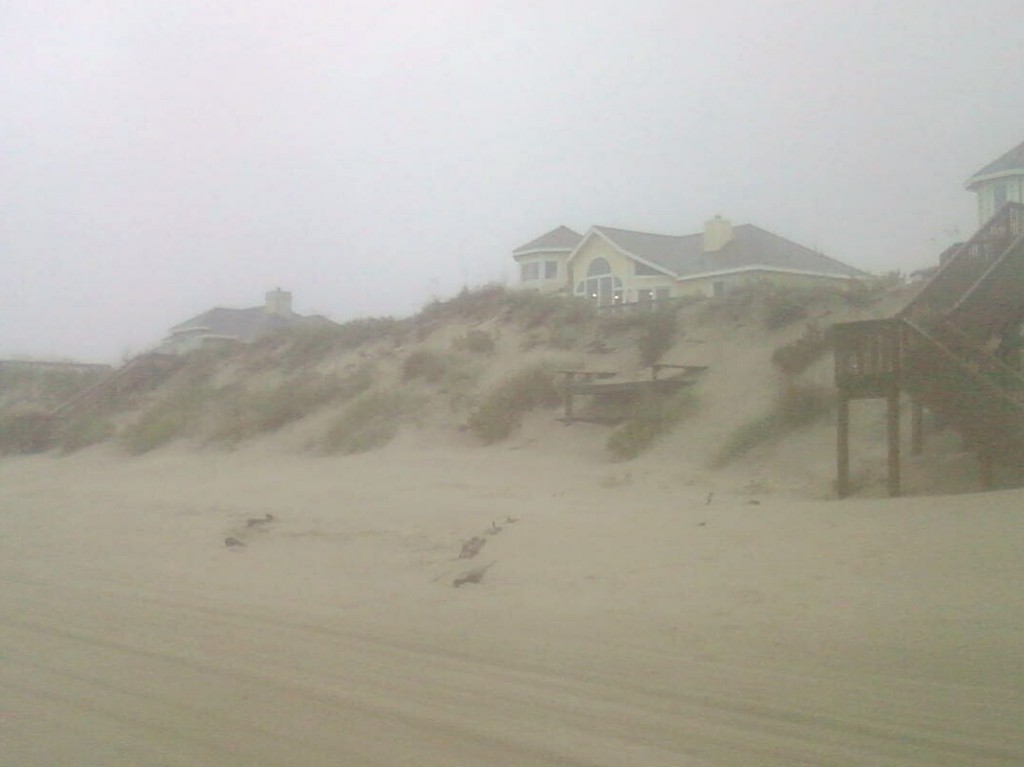 things to get the truck loose and were in the process of digging as it appeared our only hope was to eliminate the sand drift that had high centered us. The winch didn't help as it wasn't functioning correctly and there was nothing to anchor to. (Note to self: Investigate pull pal.)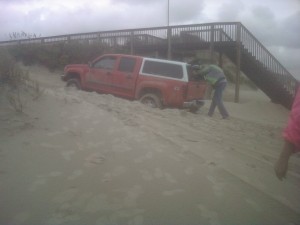 While we were digging, we saw a white pickup top the ramp and give us a short blast on the siren. In it were two young men who walked over and took a look and then told us they were headed down to the next ramp and would be back in a few to help get us out.
I continued digging while they circled around and came down the beach from another ramp. We hooked my tow strap to their truck and a gentle pull had us moving again.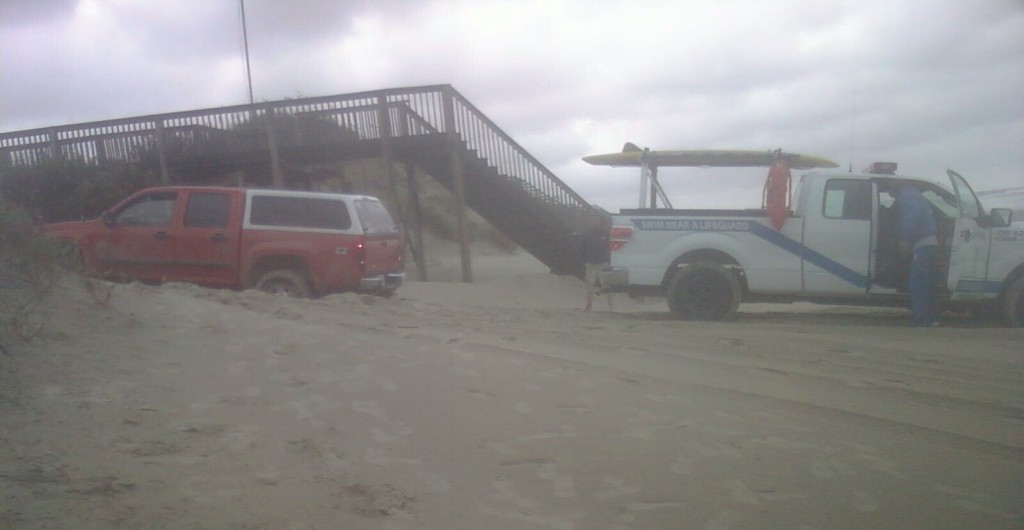 Recognizing the insignia on the truck as being Corolla Ocean Rescue  I asked if there was a charge for the tow or even a suggested donation which they declined. Told me they were just doing their job of keeping the ramp clear for emergency use. Not quite sure I totally buy that but I sure appreciated their appearance and their help. Ryan noted the wardrobe of sweatsuits and bare feet.
Maybe they figured they'd have to haul this old guy to the hospital (or worse) if they let him keep digging. In any event, in my mind this is worthy of a shout out and much appreciated.
After we got down on the beach again, we headed north to the next ramp (why hadn't I thought of that before getting stuck?) and headed back into Corolla for a restroom, place to change my wet jeans and maybe some lunch as the hour was advancing. We found it in the form of Dunkin Donuts.
We then headed on in the rain seeking the wild horses. We got a look at the Currituck Light as we drove by.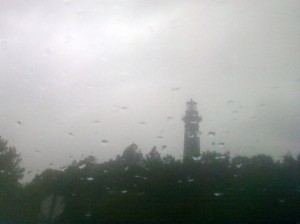 We rode all the way up to the VA/NC line and saw none. OK, now what? Sometimes you see a few in the vicinity of the Post Office and Fire Department so we head over that way. More rain and no horses. Oh well, we tried. Time to throw in the towel and head for home.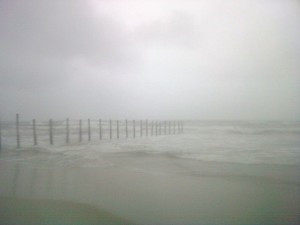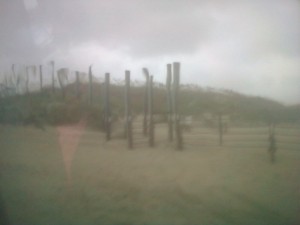 As we pull past the town hall building, Betty spies something over there in the woods. We back up and sure enough, there is ONE horse huddled under a tree to stay out of the rain. At least someone has sense to come in out of the rain. That was not someone inside the truck. We snap a couple of wet and blurry pics and head towards home.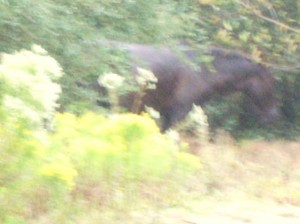 We do make a quick stop for a couple of souvenirs and for gas and we're off. By the time we got to the Border Station in Moyock, it was pouring rain which made it fun to get in and out and to refill the tires to regular pressure. I will commend their coin-op air for tires as being one of the best I've run into, sufficient pressure to be effective and it runs long enough to get to all four tires.
Border Station is located on the VA/NC line with parts of the store in one state and part in the other. Some things are treated differently tax wise in one state over the other so the gas pumps are in VA and the cigarettes and fast food are in NC.
Much less traffic and a much quicker trip home than it had been down. We stopped at a Waffle House in Newport News for dinner. Wish we had been earlier to allow for some sightseeing there or to hit up Pitts BBQ in Williamsburg but it didn't work out that way. We made it home around 11:00. We didn't get quite as much rest and relaxation as we usually do on our OBX runs but it was still an enjoyable trip where we got to see our favorite beach and some great friends.
Next time, we'll plan a little longer stay.