We are often given to rushing the last part of the trip wherever we go. A trip to visit family In Florida will sometimes turn into a marathon one day ride home. A trip to the beach will find us looking at each other late in the evening and saying "let's just go on home" and arriving at midnight. Aware of this tendency, we tried not to do it this time. One consequence of that behavior is that we often don't visit the places closer to home while telling ourselves we'll visit as a day trip from home and then keep putting it off until later.


This time, prompted by pictures shared by our friend Tra Maslar, we stopped instead of driving past the Flight 93 Memorial in Stony Creek township, 2 miles north of Shanksville PA. We stopped for lunch in Shanksville and then followed the signs to the Memorial.


Being recent history, most of us remember where we were and what we were doing when Flight 93 crashed on September 11, 2001. Briefly, of the four aircraft hijacked by terrorists on September 11, Flight 93 is the only one that did not reach its intended target, presumed to be the US Capitol building in Washington, DC. Several passengers and crew members made telephone calls aboard the flight and learned about the attacks on the World Trade Center and the Pentagon. The passengers decided to mount an assault against the hijackers and wrest control of the aircraft to prevent it reaching its target. While successful, all 44 people onboard (including the four hijackers) died in the process.


We have visited the memorials at WTC and Pentagon sites. Flight 93 crashed in a field in the countryside. The memorial itself is predominantly built but the supporting structures (visitor center and grounds) are still under construction. Since our visit, a fire at the NPS administration building has destroyed the flag that flew over the Capitol that day but most of the remainder of the memorial collection is safe.


Each of the 40 heroes are named on one of the white stones at the right above. Looking at the site from this vantage point, you are looking along the path the airplane took as it crashed and went along the ground, stopping near the boulder shown in the picture below.


Although it's been 13 years, the memorial still tugs at some tender spots and memories of that awful day. The memorial is a fitting tribute to those 40 brave men and women who sacrificed themselves for others.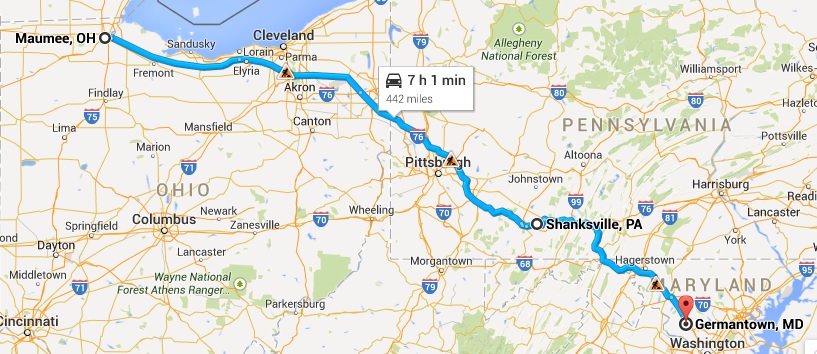 11,704 driven miles later, we are home. Looking forward to sleeping in our own bed. We appreciate how truly blessed we are to live in such a beautiful place and to have the time, money and health to make this trip together.
We live in a great and beautiful country. Get out there and see it while you can.
Schedules and reservations have their advantages but the spontaneity of driving until you're ready to stop will lead to some worthwhile surprises. If things aren't going according to plan, revise the plan instead of spinning up. It may work out even better than planned.
It was a surprise to us how many places have WiFi. Although of varying quality, its often free. Some places don't have food nearby but have WiFi.
Cell phone coverage is pretty good even in sparsely populated areas but the cost of using your phone internationally can be steep. Surprisingly, the OnStar phone in the truck was the lowest per minute price while in Canada although it was high-priced for US usage.
Most hotels are non-smoking these days but it was surprising to us how many of the large chains had smoking rooms.
People are friendly. If you take the time to talk to them or make yourself open to conversation (in some cases that means a willing listener), its easy to be part of a conversation even when you don't know anybody. Everyone has a story if you're willing to listen to it.
Preparing for the unexpected is a plus. Two spare tires are not too many. Two batteries are not too many. A refrigerator/freezer with some food comes in handy.
A suitcase full of clothes for all kinds of weather proved to be superfluous.
I still think that tollroads need to have an option for pay as you go with cash.
A supply of cash is handy but using a credit card with the credit union making the conversions can be economical.
Hotels may vacuum daily and wipe down the horizontal surfaces but the carpets need to be cleaned (shampooed) once in a while.
Take the time to poke around the small town off the interstate even if you're just stopping for gas or food.
We stop about every 2 hours and get out, even for a few minutes. We both feel better at the end of the day.
It bears repeating – Get out there and enjoy it now.
You can see all of the pictures from this leg of the trip here.
Don't forget the trip calendar we put together at CafePress. We think it turned out pretty well and would make a great holiday gift.

Thanks for following along and your comments. We hope its been worth your time.
Where shall we go next?