Friday was a transition day moving from the northern beaches around Corolla down south to Hatteras Island and our reservations in Buxton.
We started our morning with breakfast at the Hampton and got underway about 10:30 or so. We took the bypass until the KMart and then cut over to the beach road with plans to stop at the Croatan Surf Club in search of another wreck which sometimes appears on the beach there. We parked at the Albemarle Public Access and walked along the beach to the beach of the Croatan but found nothing to indicate our missing wreck. Sometimes the tide and erosion work for you, sometimes they don't.
We moved on down the beach and through Nags Head to come out on Highway 12. Our next stop was the Bodie Island Light where renovations have recommenced after stopping last year when the NPS reached the extent of their budget.
Next stop was the top of the Bonner Bridge. Ongoing construction work there results is a section of one lane road on the aging span controlled by a temporary traffic light. Too early for our check-in, we meandered onto the Hatteras Deli for lunch. The fresh yellowfin tuna salad sandwich and the open faced "Matey" (thin sliced roast beef and melted cheese) were delicious and just right for lunch. Our next stop was a repeat visit to the beached wreck off Flambeau Rd.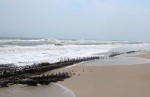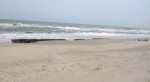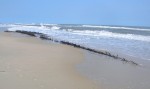 Since we knew that driving on the beach was in our plans, we went to the ORV Permit office to pay our $50 for a weekly pass and view the 7 minute indoctrination film. The only folks there were the two NPS employees and us. One employee directed us to filling out the form, compared the registration and driver's license and started the DVD player. She also escorted us into the third room where a second employee took our cash, printed a receipt and handed us our pass. He also instructed us to keep the paperwork in the vehicle.
Next stop was the Hatteras Inn Buxton (formerly the Comfort Inn) to check in. Then we headed back to Coquina Beach (on the north side of Oregon Inlet) to try once again to find the wreck of the Laura Barnes. We had seen it in about 1996 when we visited and it was marked by the highway and was located between the double row of dunes and was largely visible. Nowadays, the dune line has shifted westward and a section about 3 feet in length is visible on the sea side of the first row of dunes. Maybe not an exciting find to others, but significant to us.

Dinner at Rusty's was up next. We both had the bay scallops broiled. Betty had coleslaw and red potatoes, Keith had mashers and collards. A very tasty dinner indeed which left no room for dessert. Back to the room and settle in for the night.